Thinking of becoming a casino affiliate? Or you are already on-board, you just don't know what you are missing to scale to success? Perhaps our story will give you some insight and provide the right perspective on how to build a sustainable casino affiliate site.
Who are we?
We are a very modest team of 3 guys, 2 of us come straight from the iGaming industry. We both worked for huge operators in Gibraltar. We were the cogs in the massive money making machines that generated thousands of casino players and millions of dollars. We developed and maintained the main assets of these companies – their betting and casino websites. We learnt a thing or two during these years about the online gaming industry and our aim is to pass these experiences on to you.
Neil "the Designer", UX guy, Front-end developer and WordPress enthusiast have over 10 years experience working with web tech. He knows what converts on your PC screen or on a mobile. He is the "mover", creates a project plan in no-time and his strength in project management sprouts from an iterative approach that helps things move along quick. In the last 4 years he's been heavy into SEO and marketing online.
Imre, "the all rounder" Front-end developer, SEO and online marketing guy and above all the brain behind the iGaming industry knowledge (he really does know the inner workings and what's next – ask him anything). His attention to detail can reach annoying levels which ensures quality outcome whatever the task was. He also deals with most support, day-to-day business operation and affiliate accounts management.
Charlie, "the Jedi Coder" can make anything happen. He built the VegasHero plugin from scratch, a very unique product to WordPress. He kills production bugs without mercy and comes up with development solutions that just work. Without his insane talent we wouldn't be the perfect team.
We all have very different skill-sets so between the 3 of us we make a good team with a diverse pool of knowledge.
In the spirit of sharing we want to share how our own niche gaming affiliate site went from nothing to more than $81,000 total in only 2 years. Without a doubt, the hardest part of creating a new casino affiliate site is the first leg of the race. We'll uncover our data to show you how we started
The series of posts will dig into the experiences of building your own affiliate site. In addition give you a real life example by picking another niche and go through the process with you.
UPDATE 2017: Since this post was first published we sold most of our casino affiliate sites at auction on Flippa and moved onto creating WordPress products for the iGaming affiliate industry – hence the existence of VegasHero.co. Our themes and plugins are now actively used by over 2000+ affiliates worldwide and makes building casino review and slots games based affiliate sites easier.
The startup phase "iGaming affiliate entrepreneurship"
We're both big fans of the Startup scene, this has absolutely helped us get through that beginning phase. Knowing that you fail a lot forces you to look at your project over a period of a year or more before making money, instead of a couple of months and getting disappointed. We see so many people giving up on their affiliate site because after a couple of months they don't see massive traction. Patience is not our greatest virtue but over time we learnt that things can take some time.
To prove the fact it takes a while before you make anything at all, here is the affiliate report from when we started, to our first commission: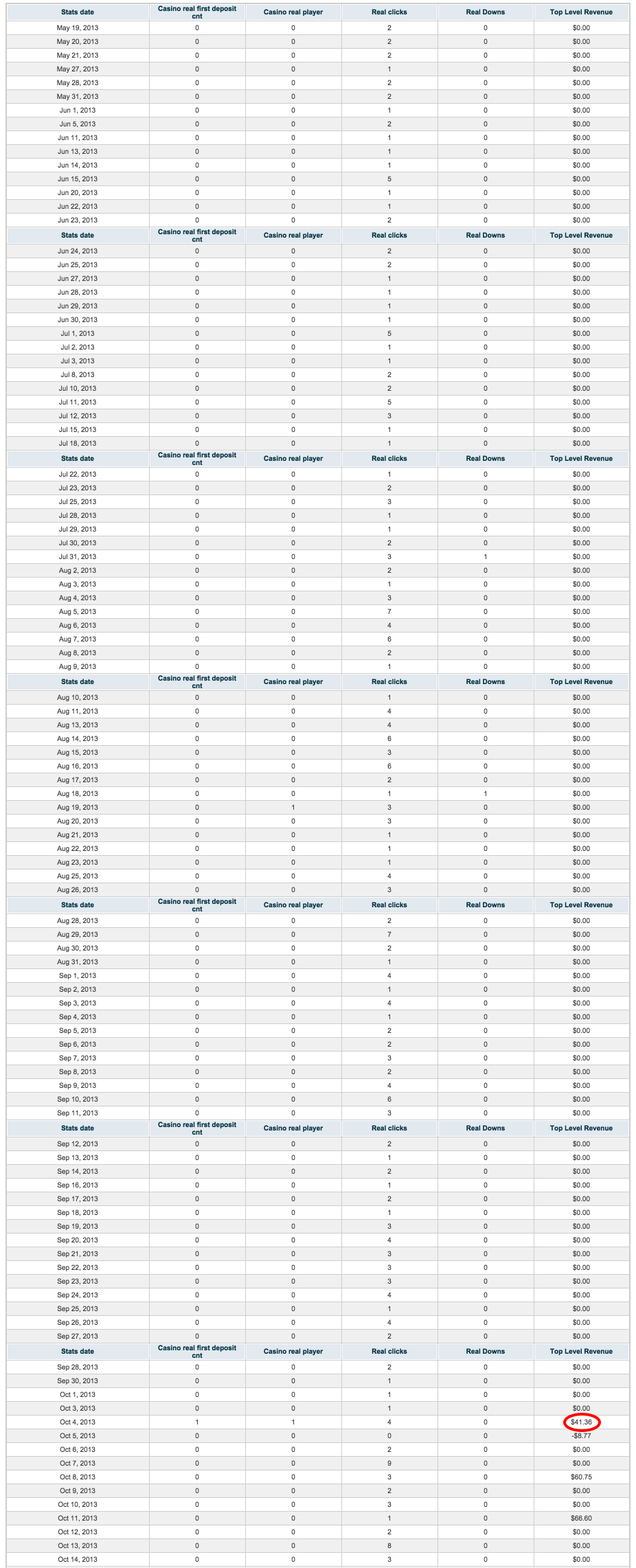 As you can see that until 6 months into it, we didn't earn a dime. Honestly, at this point one of us was a little sceptical being new to the affiliate game but Imre saw the potential and we kept at it.
From this date (October), we started making money, a year later we started climbing faster as our user base grew.
So what was the tipping point, what did the trick – you might think?
The answer may disappoint but we can tell you – there is NO secret sauce.
It's all about building your own unique strategy, systematizing your daily chores and building a workflow that you consistently follow and track the results on an ongoing bases. Tweak, rinse and repeat until you see the profit rolling in.
To give you our real-life example we went through the following steps:
Picking a niche, a domain name and then starting with SEO
Although we make a good passive income now, it certainly didn't feel like we were making any progress in the beginning. If you know a thing or two about SEO you will know that it takes a ton of patience, anything you put out now will only reflect 1, 2 or even 3 months later. Of course this depends on other factors.
The first thing to do is pick a niche, always have the concept of "inside out", by this I mean start very small and build your traffic by taking advantage of the lowest hanging fruit. Our niche is all about Marvel Slot games, although small, it was targeted at those mad about Marvel superheroes and Playtech slots.
Picking a niche is all about researching as many sites related to your category (poker, casino, bingo, table games etc) as possible, then pick whatever you feel has potential. For example, say you want to focus around slot games which are based on movies. Get on Google and search keywords such as "movie slot games", "slots movies" or anything related. If you get results which have dedicated sites or pages with rich content, then it's likely that it's a competitive niche.
The next step is to look at the pages which are topping the search. Even go 2 or 3 pages in, if the sites are saturated with slots pertaining to movies then you know it's not going to be easy.
If however it looks achievable, by that I mean if the sites listed aren't even related to what you're searching for, or the sites look very poor, it will be easier rank without a huge amount of effort.
Next step, head on over to the Google keyword planner.

As you can see there is a low volume of searches for the keyword "movie slot", the competition is low but there could be something in it. Don't take the volume as a definite, I times it by 3.
This is what we did for the Marvel slot keywords. The competition however is higher for our niche, so it took far longer for us to rank.
Low competition + low searches + large SEO campaigns = results.
It might seem like a simple concept but it's the best way to test if there's something there, if not, rinse and repeat.
The trick is to build up a combination of keywords, in this example "movie slot" can be coupled with "Gladiator Slot" or "Jurassic Slot", all of these campaign make up a nicely sized, targeted site.
Keyword research update 2017: There are great tools now nowadays to determine the difficult of a keyword – check out kwfinder.com (now called Mangools) for example.
Choosing a domain name
There are many theories when it comes to choosing a domain name which has keyword search value, all I can say is that we've seen good results on ours (slotsmarvel.com – which is now offline due to getting acquired by another affiliate who abandoned the project). Whether this made any difference is a debate. My view is, if users are looking for Marvel Slots and they see slotsmarvel.com, it seems pretty obvious what's inside. I would however advise you to take caution using domains that contain a trademark or brandname that can cause legal challenges. Of course, it's up to you and your risk assessment what strategy you take with your website name.
Don't worry about getting it right, I think getting an extension other than ".com" will work just as well, just make sure the equivalent ".com" is not in direct competition with your site.
Starting point – the bare minimals
Now you have your domain, keyword research and a direction. Next up is building the site.
Although between myself and my partner we make websites for a living, it doesn't mean you can't get the same result. All it means is that you will need to learn the basics, keeping it simple right now is what you want to do.
When we started out, my partner installed WordPress and added all the Marvel games available. Lucky for us my partner already had an account (being a serial affiliate master) so he instantly had access to game iframes. It was a manual process to add these games, nowadays you can just use a plugin like our Casino demo games import WordPress plugin to bulk add hundreds of game pages in minutes from various iGaming software providers.
If you haven't signed up for an affiliate account, then my advice is to get some traffic first before applying. When you are in a position to apply, make sure your site looks polished, broken sites will get declined straight away. And in any case, we're still testing the waters right now. Traffic first.
Once you have built some sort of workflow, then it's time to add more content. In fact, for the next 2 months your aim will be to build up enough content to start ranking and getting traffic, then you are ready to apply for a casino affiliate program.