You can configure any page as your "main" bookmakers index page that lists all the bookmaker cards in a paginated grid. You need to set the page template of that page to "Bookmakers page template".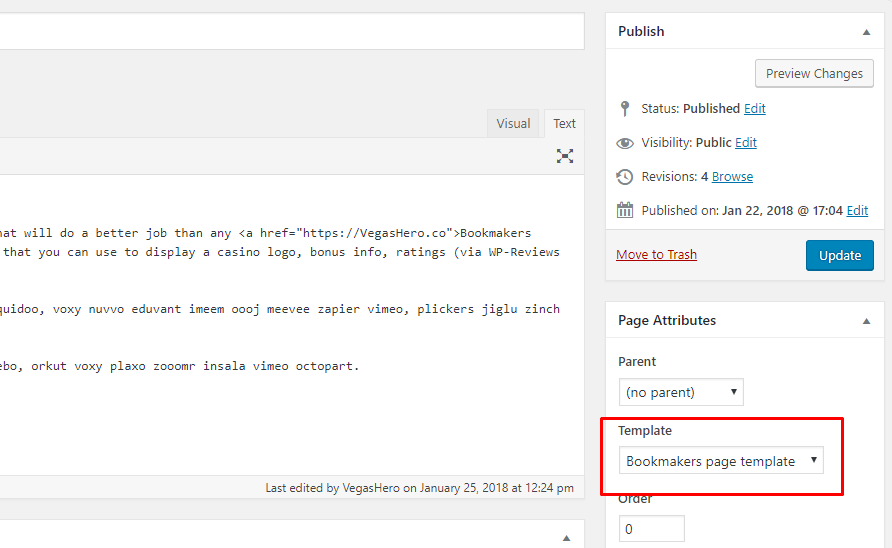 "Number of Review cards" – Set how many cards are displayed at once, if you have more bookmaker posts than the number entered, pagination will display on the bottom.
"Display Bookmaker posts on top" – if ticked the bookmaker cards will show on top, otherwise the page copy will come first
"Bookmaker card button text" – label for the bookmaker card buttons
"Override the Bookmaker post button with your affiliate link" – if ticked, Bookmaker card button will link directly the promoted affiliate casino in a new window. You can set a mix of post links and affiliate links
"Show Review link on card" – if ticked, an additional review link under button will display that links to bookmaker post
"Link text for Review link on card" – label for the link mentioned above
"Bookmaker Custom Post Type URL slug" – you can set the path for the Bookmaker post URLs here. Example www.yoursite.com/bookmaker/bookmaker-name/. This CANNOT be the same as your main Bookmakers index page URL!