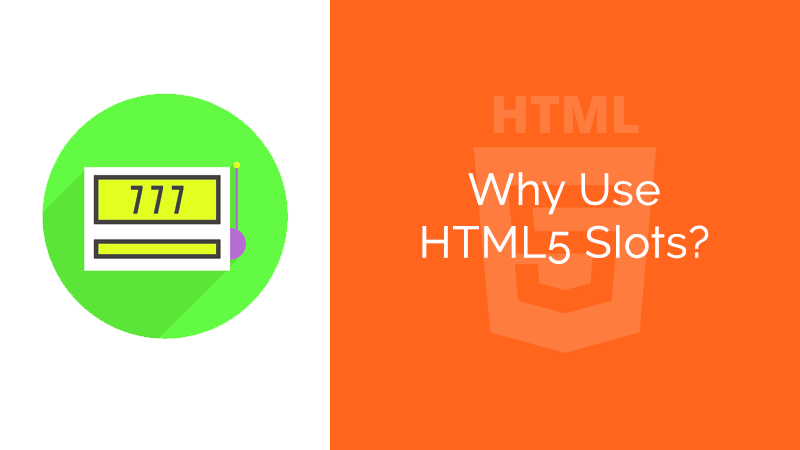 As you're reading this article there's a debate brewing. And this debate surrounds HTML5 slot performance compared to those on the flash platform. Now, there are some valid points on both ends, and both have their strengths and weaknesses. But it can't be ignored that HTML5 online slots are the only way of the future of iGaming, which this article will prove as it progresses.
Every casino and betting operator is moving over to HTML5, and with good reason.
The fact that major casino game developers, including Playtech, are migrating to the HTML5 platform says a lot about its capabilities. Naturally, there are still flaws within the system, but it's also a platform that's developing with great speed. Five years ago nobody really thought HTML5 could compete with flash, and look at the situation now. Here's an objective and in-depth look at HTML5 online slot games, and how they stack up to flash.
A Little HTML5 Internet History
Just to avoid any confusion and get some perspective, Adobe's Flash Player was the miracle that brought streaming audio and visual media to internet users. It opened up the doors to many possibilities, while providing solutions to the web for stepping up to the next level. YouTube and Apple were two of many giants that utilized the new software, ultimately making it a standard part of their platforms.
In 2012 HTML5 made its appearance, although the final version was released in 2014, it had better functionality and was open source making it an obvious favorite.
As the years went by more and more developers started realizing how powerful HTML5 really is, and what can be done with it, leading to this moment. And yes, YouTube has made the switch as well, which says a lot. As it stands, flash slot games are slowly fading away, while a more dominant HTML5 slot game experience can now be found.
How much Faster is HTML5 Compared to Traditional Online Slots?
It's hard to compare the exact speed savings with which HTML5 casino slot games with a flash version, but after playing on both platforms you'll discover the difference. This is because you asynchronous loading of assets, so instead of loading the whole game in one go you can load parts of the game instead. With HTML5 being native to the browser it's more optimised and fast, making it a popular choice.
What Devices can be used with HTML5 Slots?
This is the beauty of HTML5, because it adapts to every device. These include iOS, Android, phones and tablets, smart televisions, iPhones and iPads,  the list is seemingly endless. It's better to put it this way. If you have a mobile device or a desktop, along with the internet and a supporting browser, you can use HTML5 slots.
However, it should be noted that not all browsers support HTML5 yet. But seeing as 70% of online slot software and casino games are HTML5 based at the moment, it shouldn't take too long for all the browsers to catch up.
Who are the Biggest HTML5 Slot Software Providers?
One of the big developers have been mentioned earlier, namely Playtech. They are joined by NetEnt, Micrograming, Endorphina, BetSoft, and iSoftBet, to name only a few.
What HTML5 Slots are available to the US Market?
We often get this question. US gambling legislation friendly html5 slot games often come from RTG and WMS and in some states you may see a couple of other providers. In general there are not so many HTML5 slots available for the US gambling market. Instead, here are some example s of the most popular ones that are available elsewhere.
NetEnt
From NetEnt you can play HTML5 slot games like Guns 'n Roses, which was one of their most popular releases to date. Then there's Dracula, Alien, Gonzo's Quest, Starburst and The Invisible Man.
Playtech
Just about all Playtech slots are HTML5 compatible that came out in the past 2 years, meaning you can enjoy high RTP slots like the Batman slots series, Man of Steel slots, A Night Out, Monty's Millions, Rocky and Dr. Lovemore.  
Microgaming
The other igaming software giant is only putting out HTML5 casino games nowadays. And they are often remake popular old titles such as Immortal Romance into up-to-date HTML5 online slot machine that can also entertain on mobile devices.
If you want to have a try out what the gameplay feels like on a HTML5 built online slot game, head over onto the VegasHero Casino Affiliate Plugin demo lobby where you can play hundreds of quality html5 slots from several gambling software providers. It is completely free demo play so you can enjoy a couple of free spins and experience the difference this technology has to offer.
HTML5 Vs Flash Online Slots – what are the obvious benefits?
As one would like to keep things objective, it's a little difficult when one party has so much more substance than the other. In this case, HTML5 outweighs flash tremendously, and for several good reasons.
It uses less power: One of the things that truly stand out from using the HTML5 slots platform is the significant decrease in battery power use. In fact, the open-source platform uses between 15 and 20% less power than the flash counterpart.
It's open-source: What more can be said about this obvious benefit? All the tools you need to make HTML5 your personal playground can be used absolutely free of charge, giving smaller casinos a much better chance of competing. Now, compare it to the hefty price you pay for flash? It makes quite a difference when you're the owner of YouTube or Apple.
It's compatible with all devices: Another aspect where HTML5 outshines flash is through its compatibility with ALL devices. And the best part is that you don't have to install ANYTHING to make it work on your device. However, as mentioned earlier, there are some browser issues still at play.
More Functionality: Thanks to all the coding options and tools, you can really dig into development via HTML5. There are no restrictions as to what you want to create, unlike the complicated layers presented by flash. Better integration with payment gateways, checkout and cross-sell tools – nearly all user journey tools can be integrated tightly into the games.
It's faster: Very simple: more speed equals more money when it comes to online slots. In the beginning of the article this was already established, but we can add that the speed of the platform doesn't take away from the quality graphics or sound. It runs equal to flash online slots where quality is concerned.
It's pretty clear that HTML5 slots have the obvious upper hand, and it just keeps making more sense why developers are streaming to use it.
As a side-note, some security issues did become an issue at one point for Adobe's flash player. And the accusations came from none other than Steve Jobs, the same person who ended their contract with Adobe. Apple's reason for dropping flash was rooted mostly in security, although there were other differences involved as well. Jobs was also quoted saying that HTML5 is the future, a statement he followed quite diligently.
Why mobile slots are better than desktop versions?
Obviously there are going to be those who prefer playing the desktop versions of their favorite online slot game, but there are several benefits to playing on mobiles.
They are more focused: The great thing about playing a mobile HTML5 online slot is the basics of it all. Seeing as the developer only has a limited screen space to work with, there are less distractions and more concentration on what's important.
They are more discreet and… mobile: Yes, it's pointing out the obvious, but it does make for a good point. Privacy is a huge factor for many gamblers. With a mobile device you can play anywhere you are, giving you more reason to get used to it. And of course nobody has to see what you're playing, seeing as a mobile device is much more discreet than a desktop screen.
They are user-friendly: Given that games are getting stripped down for mobile adaptation, they also become more user-friendly.
Once again, there are advantages to playing on desktops too, but the majority of people are leaning more towards mobile convenience.
The Final Verdict
In a very short time HTML5 has created quite a lot of history, and some friction. But it's safe to say that HTML5 will most likely become the dominant platform based on all the reasons discussed in the article. This isn't to say that flash will completely disappear, because there will always be players looking for that option. But it won't be receiving nearly as much support as HTML5 slots.