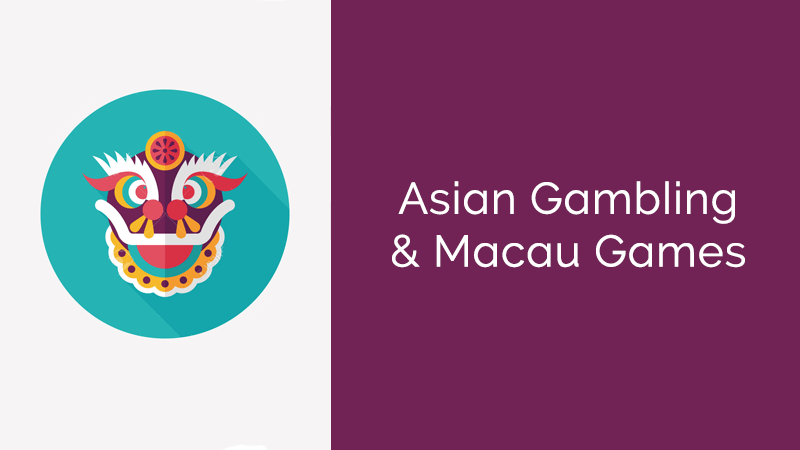 Any good affiliate knows you have to go to your clients. It's a basic principle for modern internet marketing, and the better you geo target your market, the more profit you can make. In this case the target market is Macau, in addition to its neighbouring countries. Why Macau? Because in 2006 this autonomous territory became the biggest source of gambling revenues in the world, overtaking heavy weights like the Las Vegas Strip. Can you think of a better market to sink your teeth into?
The Asian gambling scene is booming mainly because it's part of several cultures
As contradictory as it may sound given the strict guidelines some countries have set for gambling, it's part of several Asian cultures. The idea that luck can be changed or shaped is what drives the rich Chinese citizens to Macau, also making up most of their clientele. In a very short time Macau has become the gambling capital of the world, and other countries want a piece of the pie as well.
In the 1850's gambling was legalised in Macau with the sole purpose of boosting the government budget. Now, it has been estimated that gambling brings in between 50 and 80% of Macau's overall revenue, and is better known as the Monte Casino of the orient. But it won't be long until places like mainland China, Japan, India, Malaysia and even South Korea start to give it some strong competition.
Finding Success with Macau Casino Games – And the Rest of Asia
Now you're a little more interested, right? But why has Asia been an untapped resource for so long? Macau by itself has always been a target market thanks to the support gambling gets from the government, but the other countries joining the market are relatively new to the legal side.
These aren't countries that don't know anything about gambling. In fact, they probably know more about it than the Western World, because it's always been going on behind the scenes. As mentioned earlier, gambling is part of the culture.
And as Macau proudly takes its place at the top of the oriental gambling list, other countries are getting jealous.
Small steps are eventually leading to more opportunities. Vietnam is a good example, because it's controlled by a very conservative government. Even though they have limited gambling to football and horse (greyhound) racing, it's ultimately a controlled test. If it brings in money for the government, which can do with a financial boost, more gates are going to open get opened.
The trick for affiliates looking to achieve success in the oriental space, or in Macau for that matter, is to pay attention to opportunities. Vietnam agreeing to legalize football betting only happened this year, meaning it's an open market with unlimited potential if you act quickly enough.
How the Pros are Working Macau Casino Games
Western style casino games have only been part of the Asian gambling community since the 20th century, and up until then Fan-Tan was one of the most popular games. But now Asian casinos replicate what Western casinos are doing, while Western casinos target the Asian market.
To give you an idea of how the pros are getting into the oriental market, they use psychological means. For instance, they know that gambling is rooted in socializing. While Americans mainly want to gamble to get rich, Asians gamble because they see it as socializing. They even have special events based on gambling, like "Diwali" in India. It's a day where everyone comes out to play cards. Then there are Korean societies in America that gamble after having some good New Year's Holiday and Thanksgiving food.
In order to attract Asian gamblers living in America, casinos offer ethnic food and dealers that can speak several languages. They even offer Asian entertainment, and creating a social event. They do all this knowing that most Asian's are very superstitious where gambling is involved, and winning or losing speaks directly to their identity.
The lesson to learn is to know your market. Find out what is hot and where it's happening.
You have probably seen the trend that almost all major online casino operators (in Europe) has added a "Las Vegas" or "Vegas Casino" tab to their selection of gaming choices. A fairly new trend is now to add a "Macau" section to their site as well. At first people from Europe may just click on it out of curiosity not even knowing that the operator's target audience is actually a larger pool of population from Asia that is estimated to be over 1 billion people.
How Smart Affiliates can Profit from Casino Games in Macau
Technology really is an amazing thing, and Macau casinos are finally introducing live online betting. It's referred to as the "live casino phenomenon" and it works from inside a studio. Inside the studio all the necessary game tables are present, such as roulette, blackjack, baccarat and sic bo tables. Each table will have croupiers, who act according to the orders from the online player.
When the online player wants to make a bet via PC, tablet or smartphone, the croupier is informed of the bet and physically makes it. The concept is pretty much the same thing you'll find in a live television studio, with two cameras giving you a visual of the table from the above (static), and one focused on the dealer.
As the action plays out, the player will be updated on everything, whether it's the pocket in which the roulette ball lands, or the cards being dealt in a blackjack game. The wins are also calculated automatically.
Strange a it may sound the Asian gambling market is just catching up to its western competition's game selection. Apart from the traditionally popular Asian card games there are now a number of Chinese slot machine games and Asian casino games developed by cutting edge tech game developers that are targeting far east countries when it comes to online slots themes.
For example apart from the table games, Playtech One offers a range of Asian themed games. They include:
Zhao Cai Tong Zi
Heavenly Ruler
Jin Qian Wa
Silent Samurai JP
Just to mention a few…
The graphics are authentic and fit the themes perfectly, as you'd expect from Playtech, and the range is quite extensive. If affiliates tap into this technology to reach a market with such great potential, there is no telling how much money can be made.
The Current State of Asian Gambling
This is a little cheat sheet that will give you an idea of gambling opportunities in Asia.
The Philippines
The Philippines can be regarded as the second biggest gambling spot after Macau. And just like Macau, it's receiving a surge of Chinese citizens. What's hot at the moment is the typical Western casino setting. They've built a replica of the Las Vegas Strip in the main city of Manila. However, the Philippines does receive quite a variety of gamblers, mostly focused on casino games. Football, basketball and boxing also enjoy great followings in terms of sports betting.
South Korea
There are some difficulties with the South Korean gambling situation, but it didn't stop Paradise City from becoming its biggest casino to date. With 281 slots, 154 game tables and 62-seat electronic table games, South Korea is quickly moving up the ranks even though it still doesn't cater to its own people, yet. Yes, unfortunately the casinos are only allowed to be enjoyed by foreigners. The difficulties they are facing mostly surround politics with China, and the fact that most of their gamblers are Chinese nationals.
India
Currently the potential in India remains untapped, but more and more gambling enterprises are considering this move. Given that it has the second largest population in the world, and gambling also forms part of the culture in many respects, it's only natural prospectors will look India's way. For the 1.25 billion people living there, only 730 table games are available.
India is divided into 29 states, of which only 2 have casinos. Certain lotteries are allowed in 13 states and 6 states allow horse racing. As you can see, there is a lot of potential in India, but the government has yet to catch up – although it shouldn't take long now.
Malaysia
Online gambling in Malaysia isn't showing signs of happening soon (well not legally at least). Despite the hope some nationals had after Singapore gave more rope with online gambling, Malaysian officials aren't budging yet. The government is still very focused on keeping the ban in place, although there are other options to follow.
For example, bets can be made through an international company, drastically minimizing the risk of violating Malaysian gambling laws.
Japan
Unlike Malaysia, Japan is much more open to online gambling and it's estimated to become the third biggest gambling country in the world. Investors are keeping a keen eye on what the second round of Japanese legislature will entail regarding casino licenses and gambling as a whole, but they are positive it's going to be beneficial to everyone. At the moment a second IR (Integrated Resorts Implementation) bill is in the works and guys like Sheldon Adelson (Las Vegas Sands Chairman) are willing to invest $10 billion.
Recent news confirmed a slight delay in making the outline of the legislation public – which isn't likely to happen until this August. Among other actions, the government plans to create a Casino Management Committee and Japanese media reported that the public comment period could extend through the end of 2017, which may push legislative debate on the bill into 2018. Everyone's keeping keen eyes on this!
Thailand
Thailand has great potential, but gambling is not in the works yet. With the new king in place things might change, but as it stands there is no gambling allowed within its borders. This has worked out well for Cambodian border casinos, and it might spur on the new king to consider the potential economic growth.
Some Final Thoughts
As with all things, everything starts with small steps. More and more Asian countries are giving in to the possibilities of increasing government revenue through gambling, and this is where affiliates have to capitalize. One step usually leads to more, and eventually Asia will turn into the gambling arena of the world. The question is, are you tapped into the market yet?